ScareCrow Motion-Activated Sprinkler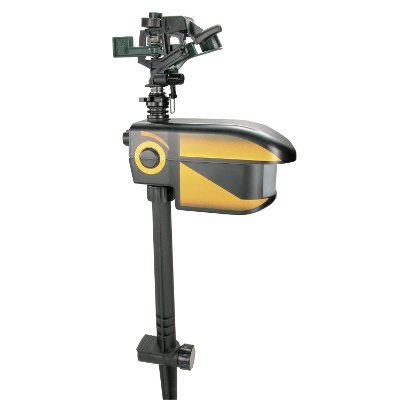 ScareCrow Motion-Activated Sprinkler
Move over Worzel Gummidge, behold the scarecrow of the future! No straw is necessary with the Contech Electronics ScareCrow Motion-Activated Sprinkler which will deter any animals from munching on your flowers and plants in a humane and natural manner.
Whenever an animal steps within 1000sq/ft of this garden gadget its sprinkler system will release a spray of water. This action, combined with the sudden noise and motion of the device, will deter any wildlife from scavenging in your garden.
To begin benefiting from this garden gadget all you have to do is insert a 9 volt battery within the device, connect the sprinkler to your hose, drive the 17 inch stake into the ground to secure the device in place and adjust the sprinkler arc to cover the specific area that you want protected.
Irrespective of whether you wish to deter birds from pestering your pond life, or whether you wish to prevent foxes, cats, dogs or other wildlife from digging up your daffodils, the Contech Electronics ScareCrow Motion-Activated Sprinkler will equip you with a tried and tested humane solution that will scare animals away without contaminating your garden with harmful chemicals or pesticides.