Solar Garden Lights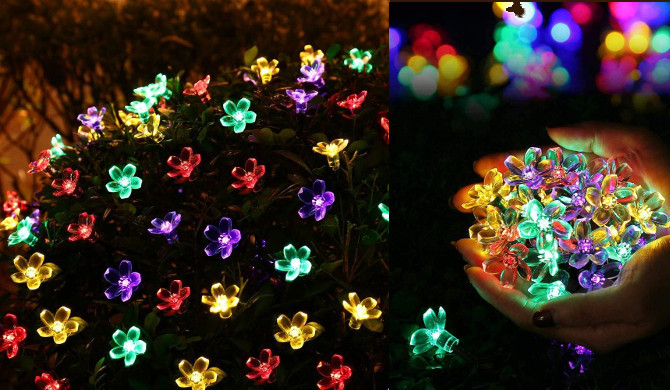 Solar Powered LED String Lights
USA : 50 Lights, 21 ft
UK: 60 lights, 36 ft
Low Voltage
No Power Needed
Range of Modes
Solar Garden Lights
Spring, summer, winter or fall, there has never been a better way to jazz up your garden, patio or outdoor space than with lighting. Solar powered lights are ideal for a number of reasons. For starters, you do not have to run those annoying cables everywhere. In addition, they use no power, they are easy to move around and when the sun goes down, your garden is automatically illuminated. There are so many different designs to choose from, you literally will be spoilt for choice.
Create Atmosphere
These elegant outdoor solar garden lights will create a wonderful atmosphere on the patio or anywhere in your garden. On those balmy summer nights as the sun goes down, these solar garden lights will automatically illuminate any area of the garden where you want to create a magical atmosphere.
Whether you are hosting a barbecue, an alfresco dinner party or simply enjoying a relaxing tranquil night in the garden, these solar garden lights are ideal. The mood they create is so charming it is likely that you and your guests won't want to retire from the garden!
Use no Electricity
As your lights are being run from the power of the sun, you are not adding to your electricity bill. As a result you can run wild and fill your garden with decorative lighting and it is costing you no more on your power bill. That has to be good news!
Different Modes
As well as the static mode where all lights are lit constantly, you will find these solar garden lights have a selection of different modes including flashing modes. The advantage here is that you can change the mode of your lighting to reflect the mood in the room. For example, the flashing mode will go down a storm at a noisy party.
What is in the pack?
Each pack of these solar garden lights contains a string of lights, a solar panel, garden stake and a set of nstructions. The USA pack contains 50 lights and hangs on a string that is 21 feet in length while the UK version contains 60 lights and runs for 36 ft.
How to place them
These solar garden lights are very versatile and will add a spectacular splash of color and light wherever they are placed. If you want to get the best out of your lights, the one requirement you should adhere to is to make sure the solar panel has good access to the sun's rays. Placing the solar panel and positioning it to receive maxiumum rays from the sun will ensure the best performance from your lights.