Fiskars Weed Puller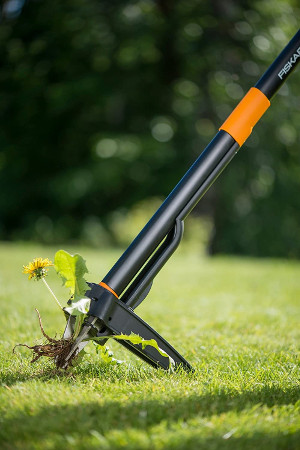 Ideal for Invasive Weeds
Ergonomically designed
Lightweight Shaft
Length: 39″
Fiskars Weed Puller
Banish weeds with a Fiskars Weeder
Plagued by pesky weeds popping up in your garden? Then the Fiskars Weed Puller offers an ideal solution!
This lightweight tool, constructed from hardened aluminium and steel, has been ergonomically designed so that you can work comfortably without having to bend over or crouch down for prolonged periods of time. One of the most popluar weeder tools available.
One of the main benefits of the Fiskars Weed Puller is the fact that it contains a set of stainless steel deep-reaching claws which grab the root of the weed from multiple directions. What's more, it comes equipped with an ejection system so that you can effortlessly release the weeds after pulling them up out of the ground.
So if you are looking for a cheap, easy and chemical free solution for de-weeding your garden, then it is worth investing in the Fiskars Weed Puller. Perfect both for small and large gardens, this gardening gadget will ensure that you enjoy a weed-free garden throughout the year!