Spear and Jackson Pruning Secateurs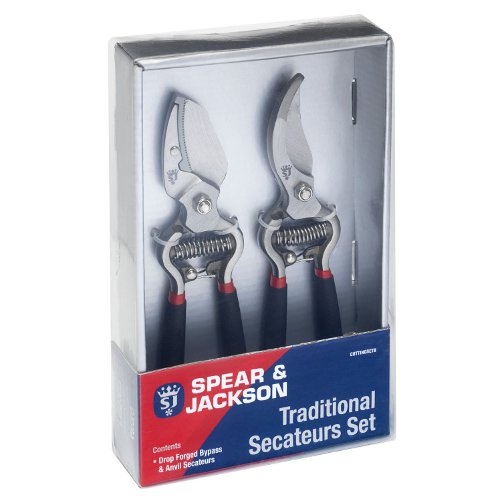 Spear and Jackson Pruning Secateurs
Whether you are searching for a gift for a gardening enthusiast or if you simply wish to replace an old set of secateurs then the Spear & Jackson Traditional Secateurs Set is ideal.
Each set includes a set of Traditional Bypass Secateurs and Traditional Anvil Secateurs. The Bypass Secateurs are useful for achieving a clean and precise cut on living, green stems whilst the Anvil Secateurs can be used for effortlessly pruning any thick, dead or wood type materials.
Both the Bypass and Anvil Secateurs consist of drop forged carbon steel blades which provide consistent strength and durability, as well as non-slip grips for safe and precise pruning at all times.
All in all, this Traditional Secateurs Set equips both novice and seasoned gardeners with all the tools you need in order to maintain your garden to an exemplary condition.