Buddha Water Feature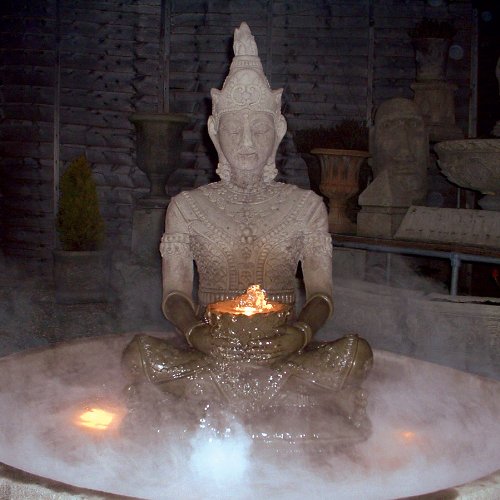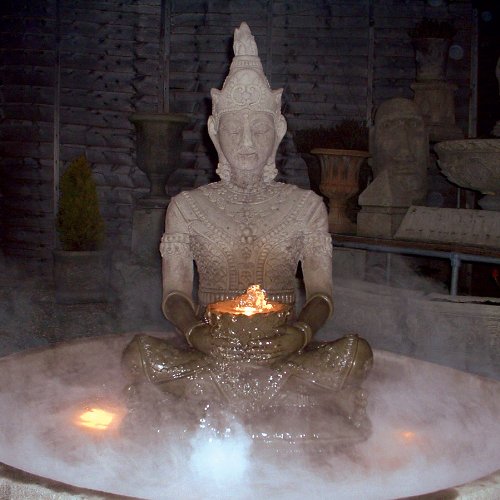 High Quality Stone Buddha Fountain
Measures: 5′ 7″ tall ( 170cm)
Bowl: 45″ Diameter
Choice of Finishes Avalable
Includes Water Pump More…
Elaborate Buddha Water Feature
Add an air of peace and serenity to your garden with this elegantly crafted Buddha Fountain & Reservoir. The Buddha has been shown in the picture above with lights and a working water pump to demonstrate how truly mystical this piece is, and how beautiful it will look when installed.
Manufacturer's comment "This great feature is supplied with a pump to enable a cascading water display: the water is pumped from the main fountain bowl to the bowl of Buddha (on his lap), which then cascades over and back into the main bowl, providing a stunning feature…"
Hand-crafted using local reconstituted stone, this stylish and sophisticated water fountain and reservoir would be an ideal centrepiece within any home or commercial garden. It is safe to leave this piece outside in all weathers. The fountain weighs 75kg, measures 80cm high and its base measures 46cm by 33cm. The reservoir section weighs 200kg and measures 35cm high and has a diameter of 110cm.
This elegant, high quality Water feature is truly a work of art.. As with all handcrafted items, no two pieces are exactly alike so you can be sure you are receiving a truly unique piece.
Although we agree it will make a wonderful talking point with guests, this beautiful Buddha fountain is sure to instill a sense of calm and bring you hours of peaceful serenity and quiet contemplation. A great way to relax after a long day!