Wild Bird Peanuts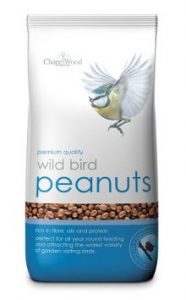 Wild Bird Peanuts
The best nuts for feeding wild birds
These are not just peanuts. These are Chapelwood Premium Wild Bird Peanuts! For happy birds in your garden, fill your bird feeder with these peanuts and let the feast begin!

These premium quality, grade A sourced peanuts have been Aflatoxin tested both at source and at port to ensure they will provide the birds visiting your garden with a balanced dietary supplement of fibre, oils, protein and other vital nutrients. Moreover, they will also undergo a contaminants check before tippling and processing to ensure that they are suitable for feeding a variety of wild birds.
As a result of their comprehensive nutritional content, these peanuts are perfect for year round feeding; providing birds with the energy that they need during the active spring and summer months as well as supplying the vital food stores that they will need in order to survive the cold autumn and winter months.
However, make sure that you refill your feeders regularly in order to avoid the Hitchcock-esque angry hoards of birds tapping on your windows for more peanuts!