Wolf Garten Soil Miller
Oscillating Hoe
4 star-shaped Tines
Cuts Through Soil
Tackles Weeds
Stainless Steel
Hand Cultivator / Soil Miller
Tired of digging up weeds and tilling soil? With the help of the Wolf Garten Soil Miller you can quickly and easily prepare any ground for sowing your favourite seeds. The combination of its pendulum blade and innovatively designed star shaped wheels means that this oscillating gadget will cut through any soil types and weeds in moments.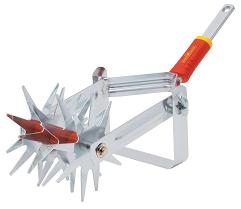 This efficient garden gadget has a working width of 15cm and is crafted from cold-rolled steel with a lacquer finish. It also features a multi-change click system so it can be fitted to any sized handle. This easy to use multi-purpose tool yields efficient soil milling results within moments; making it a must have addition to any gardening enthusiast's gadget collection.
More Wolf Garten Tools
Wolf Garten tools are renouned for their strength, durability, reliablity and versatility. There are a number of additional garden gadgets in the Wolf Garten tool range that you will find compliment your Wolf Garten Soil Miller.
Below you will find a choice of two handles and an additional cultivating tool that can be easily attached to your Wolf Garten Soil Miller to increase your productivity in the garden.
Gift Ideas
Whether you are selecting some garden tools for yourself or planning a gift for a keen gardener, these Wolf Garten tools come highly recommended. Give a Wolf Garten Garden Gadget at Christmas, birthday, Easter or anytime in between. If you have yet to own any of this marvellous range yourself, it's time you gave yourself a treat!
Wolf Garten Multi-Star Aluminium Handle
Wolf Garten Multi-Change Small Push / Pull Weeder
Wolf Garten Multi-Star Heavy Duty Short Handle